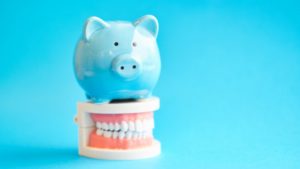 When it comes to replacing your missing teeth, you have a lot of options to choose from nowadays. If you're looking for the most functional, comfortable, and lasting solution for tooth loss, look no further than dental implants in Braintree! However, some people are hesitant to choose this treatment because it tends to cost more than more traditional options like dentures or a dental bridge. So what makes this unique restoration worth the cost for millions of satisfied patients? Read on to discover five ways that dental implants can easily end up saving you money in the long run!
1.) Save Money on Replacements & Repairs
While dentures and dental bridges can replace missing teeth right away, they need to be repaired, readjusted, or replaced every 10-15 years. Over time, this can quickly cost you a significant amount of time and money! On the other hand, with the one-time cost of dental implants and the proper care, you can easily expect to enjoy your newly rebuilt smile for a lifetime.
2.) Spend Less Time & Money on your Dental Routine
Dental implants are just as easy to care for as natural teeth. There's no need to buy any special brushes, pastes, or cleaners, nor will you have to spend more time during your normal daily dental routine. Practicing great oral hygiene habits like regular brushing, flossing, and rinsing will help your new smile stay strong and sparkling.
3.) Prevent the Cost of Future Oral & Overall Health Issues
Since dental implants are easy to keep clean, won't wear down your natural teeth, and don't cause gum irritation, they're the healthiest option for your mouth. By promoting better oral health, they'll save you the hassle and cost of treating issues like tooth decay, gum disease, and worn-down teeth. What's more, a healthy smile can benefit the wellbeing of the rest of your body as well. Not only will your risk of issues like diabetes, rheumatoid arthritis, and respiratory infections decrease, but studies suggest that those with a healthy smile typically pay less for cardiovascular care costs than those in poor oral health.
4.) Preserve Your Youthful Facial Features
Jawbone deterioration is a natural byproduct of tooth loss. As the jaw shrinks away, the facial bones it supports will shift, which can cause a sunken, aged appearance in the facial features. Dental implants are the only tooth replacement option that can prevent this process and help you preserve your youthful appearance. The dental implant posts in your jawbone stimulate blood flow, which keeps the bone tissue healthy and strong.
5.) Regain Priceless Confidence
Perhaps most importantly, dental implants have the potential to dramatically improve your quality of life. Their unmatched functionality and comfort allow you to eat all your favorite foods and feel confident about the long-term wellbeing of your smile and jaw. Thanks to their unique placement, your new teeth should never feel loose or like they're about to slip out of place. Simply put, you can't put a price on the confidence and peace-of-mind dental implants can help you regain!
Although dental implants may cost more than other tooth replacement options, their long-term benefits make them well worth the price. To learn more about the cost of dental implants, call your dentist today to schedule your consultation!
About the Practice
Pinnacle Dental has been Braintree's home for award-winning oral healthcare since 1988. We're proud to offer the latest, most effective treatments with state-of-the-art dental technology and our highly experienced dental team. We truly believe that dental implants are the best solution for tooth loss, which is why we accept numerous dental insurance plans and offer financing options through CareCredit to make your treatment as affordable as possible. To learn more about the cost and benefits of dental implants, feel free to contact us online or at (781) 843-7905.