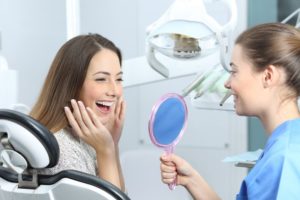 If you wish you had a brighter smile, you're certainly not alone. Studies report that 70-80% of Americans want whiter teeth. A variety of common, everyday factors lead to tooth discoloration, which is why teeth whitening treatments are one of the most popular cosmetic services available. However, if your smile only needs a little touchup, you may not need a full-strength professional whitening treatment. Read on to find out how getting a brighter smile may be as easy as getting a checkup and cleaning from your Braintree dentist.
What Happens During a Teeth Cleaning?
A professional teeth cleaning is a routine part of your biannual dental checkups. Typically, it's performed by a highly trained dental hygienist. First, they'll use a series of special tools to gently scrape and clean away buildup on your teeth, including all those hard-to-brush areas like behind your back molars and just underneath your gumline.
They'll be looking for and removing tartar buildup specifically, which is the hardened form of plaque. This tough, porous material encourages bacterial growth and cannot be cleared away by brushing alone. Since tartar stains very easily and is often a yellowish color, your smile may look much brighter once it's all been removed! Then, your dental hygienist will use a motorized polishing tool to buff the surface of your teeth, which cleans away surface stains and helps keep future stains from sticking. At the end of your dental cleaning, you'll have a healthy, refreshed, and gleaming smile!
Benefits of Routine Teeth Cleanings Over Whitening Treatments
Thanks to modern cosmetic dentistry, a professional teeth whitening treatment can lift nearly any type of tooth discoloration to take years off your smile. It's a fast, easy, and affordable way to achieve dramatic results. However, keeping your smile sparkling with routine dental cleanings offers several important benefits, like:
Improved oral health: While a teeth whitening treatment is purely cosmetic, routine dental checkups and cleanings are designed to keep your oral health on track. These regular visits give your dentist a chance to spot and stop any issues like tooth decay or gum disease as early as possible. They can also give you personalized recommendations for products or habits that can help you keep your teeth white at home.
More cost-effective: Since professional teeth whitening treatments are a cosmetic service, their cost is not usually covered under dental insurance. However, nearly every dental insurance policy will pay for two dental checkups and cleanings a year at 90-100%! Teeth whitening may be an affordable cosmetic service, but they're typically not as cost-effective as preventive care, especially if you have dental insurance!
How Can I Keep My Teeth White?
There are plenty of ways to keep your teeth sparkling between your biannual dental checkups and cleanings, such as:
Brushing your teeth for two minutes twice a day.
Flossing daily and rinsing with fluoridated mouthwash regularly.
Limiting your consumption of staining foods and drinks.
Cutting back on alcohol use and quitting tobacco products.
Drinking staining beverages through a straw or with plenty of water.
If you're not happy with the color of your teeth, call your dentist and schedule a checkup. Whether you need a dental cleaning or a professional whitening treatment, they can help you get the happy, healthy, and sparkling smile you deserve!
About the Practice
At Pinnacle Dental, we encourage all our Braintree patients to come in for a checkup and cleaning at least twice a year. We offer long-lasting preventive care like fluoride treatments and thorough dental cleanings to help our patients maintain healthy, brilliant smiles. However, we're also proud to provide numerous state-of-the-art cosmetic treatments like teeth whitening to help your smile shine if needed. To learn more, we can be contacted online or at (781) 843-7905.