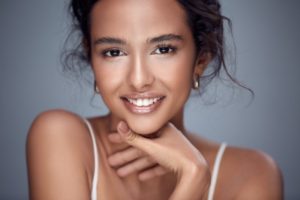 With the holidays quickly approaching, the last thing you want to do is dawn your damaged smile in family photos that will be cherished for years. Whether one tooth is distracting from your beautiful grin or you need your whole mouth refreshed, cosmetic dentistry can give you a trait to be proud of with porcelain veneers. In just three visits, your dentist can conceal a variety of damage to make your mouth look complete, bright, and flawless. Here's everything you should know about the procedure and how it can benefit you.
What are Porcelain Veneers?
Dental veneers are thin, durable shells that are custom-crafted from porcelain. Your cosmetic dentist will take impressions of each of the teeth you'd like to have repaired and send them off to a laboratory. They'll be specially designed to change the shape, size, and color of your teeth to achieve the desires you have for your smile. Once they are permanently placed on your prepared natural teeth, you'll leave your dentist's office with a smile that you'll want to show off.
Who Makes a Good Candidate For Veneers?
Porcelain veneers can help correct most cosmetic imperfections among patients. Some ways that you can tell you're a good candidate are if you have:
Severely stained teeth that can't be whitened with professional treatment.
Minor cosmetic flaws such as chips, cracks, and misshapen teeth.
A variety of cosmetic problems you'd like to conceal.
Good oral health.
Moderately aligned teeth.
Good oral hygiene.
To ensure that your veneers last as long as they should, it's also important to have bad oral habits like nail-biting and teeth grinding under control. That way, you can get the most from your new cosmetic investment.
What are the Benefits of Getting Veneers?
Most patients are attracted to porcelain veneers because they offer a variety of benefits. In just three appointments with your cosmetic dentist, you'll be able to completely transform your smile into one that you've always dreamed of. Some additional benefits include:
Repair one tooth or your entire mouth.
Custom-tailored treatment plan.
Dental porcelain provides a natural appearance by mimicking qualities of enamel like reflecting light.
Dental porcelain is non-porous and stain resistant.
The color of veneers can be customized to your desires.
Veneers last from 10 to 15 years with proper maintenance.
Instead of letting your smile get you down every time you catch a view of it, remodel it with cosmetic dentistry in Braintree. Even if porcelain veneers aren't the perfect choice for you, there are several other options available that your dentist could discuss with you. That way, you can go through life with a newfound confidence boost and a grin you'll love showing off. The best way to start your journey is to schedule a consultation to discuss your options with your dentist.
About the Practice
At Pinnacle Dental, we offer the experience and expertise of three highly skilled dentists. Each of our dentists brings unique experience and training to our patients, allowing our practice to offer comprehensive dental care. We also offer a large menu of cosmetic treatments, including complete smile makeovers, porcelain veneers, professional teeth whitening, and many more. For questions or to schedule a consultation to enhance your smile, visit our website or call 781-843-7905.