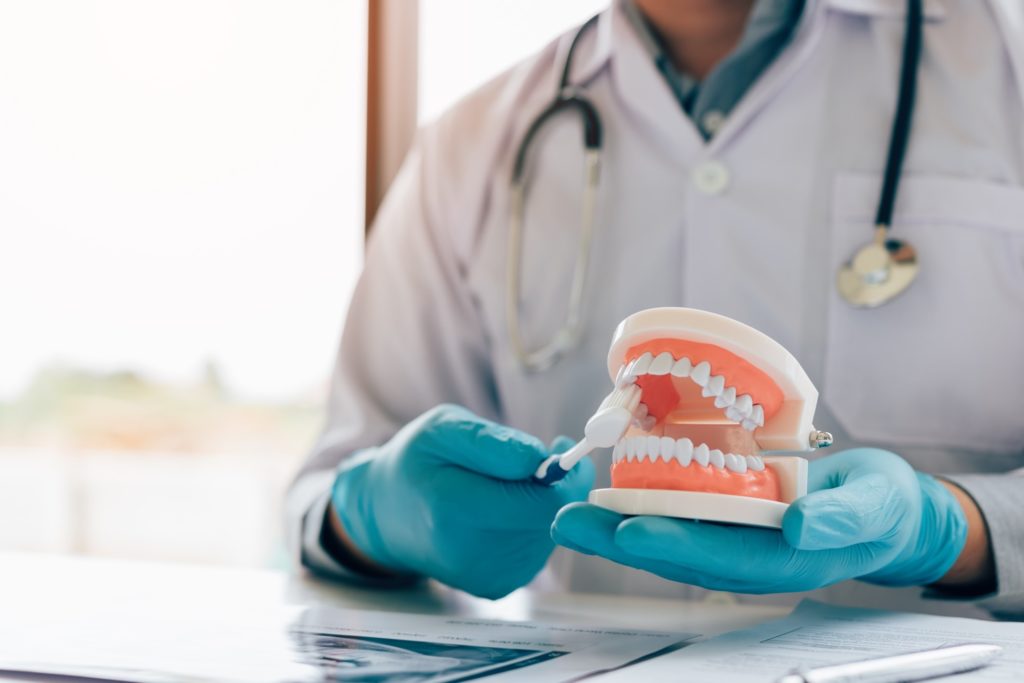 Tooth loss can take a serious toll on your quality of life, making speaking, chewing, and smiling quite difficult. The good news is there is a tried-and-true solution: dentures. This reliable, safe, and lifelike tooth-replacement solution can help patients who are struggling with several missing teeth or an entire arch. Plus, they can last for well over a decade with proper maintenance. Here are some tips for caring for dentures to prolong the lifespan of yours!
Rinse Your Dentures After Eating
After you're done enjoying your meal, it's a good idea to excuse yourself to the restroom to rinse off your dentures. This will free them of food particles and debris that would've otherwise got trapped underneath, resulting in bad breath. Note: make sure to use lukewarm water to prevent any of the plastic from warping.
Handle Your Dentures with Care
As time goes on, your "denture routine" will become more and more natural. In fact, you may be surprised how quickly you end up going on autopilot. Just make sure to always handle them with care. Otherwise, they can tumble out of your hands, crashing hard against your bathroom counter or the floor. To prevent that from happening, do your best to clean them over a sink filled with water or a towel, both of which will soften the fall.
Soak Your Dentures Nightly
Once you get your dentures, you may be tempted to keep them in 24/7. However, it's beneficial to take them out while you doze. There are a few reasons for this. To start, your dentures need to stay moist to keep their shape, and placing them in water or a dentist-recommended cleaner overnight is a great way to do that. Secondly, your gums need time to rest so the blood can recirculate to the area. In short, a simple best practice like soaking your dentures overnight can go a long way in keeping yours in tip-top shape.
Brush Your Dentures Each Evening
Each evening, gently remove your dentures and use a soft-bristled toothbrush to clean them. Make sure to clean all of the components too, not just the prosthetic teeth. This will go a long way in helping remove denture adhesive and preventing bad breath.
Schedule Regular Checkups and Cleanings
Think that you don't have to go to the dentist once you lose all your teeth? Think again! Regular checkups will allow your dental team to take a look at your dentures to ensure they fit properly while making sure there are no emerging oral health concerns, like gum disease. Furthermore, professional cleanings can remove stubborn plaque and tartar, keeping your dentures fresh.
Naturally, you want your dentures to last for as long as possible. The good news is that you can prolong their lifespan with the above best practices!
About the Practice
At Pinnacle Dental, patients can enjoy high-quality care from Dr. James Zonghetti, a Las Vegas Institute-trained dentist with more than 20 years of experience. He's proud to help patients restore their smiles and their bites with all-porcelain restorations that look and feel natural. If you have a question about caring for dentures or you'd like to schedule an appointment, don't hesitate to visit our website or call (781) 843-7905.