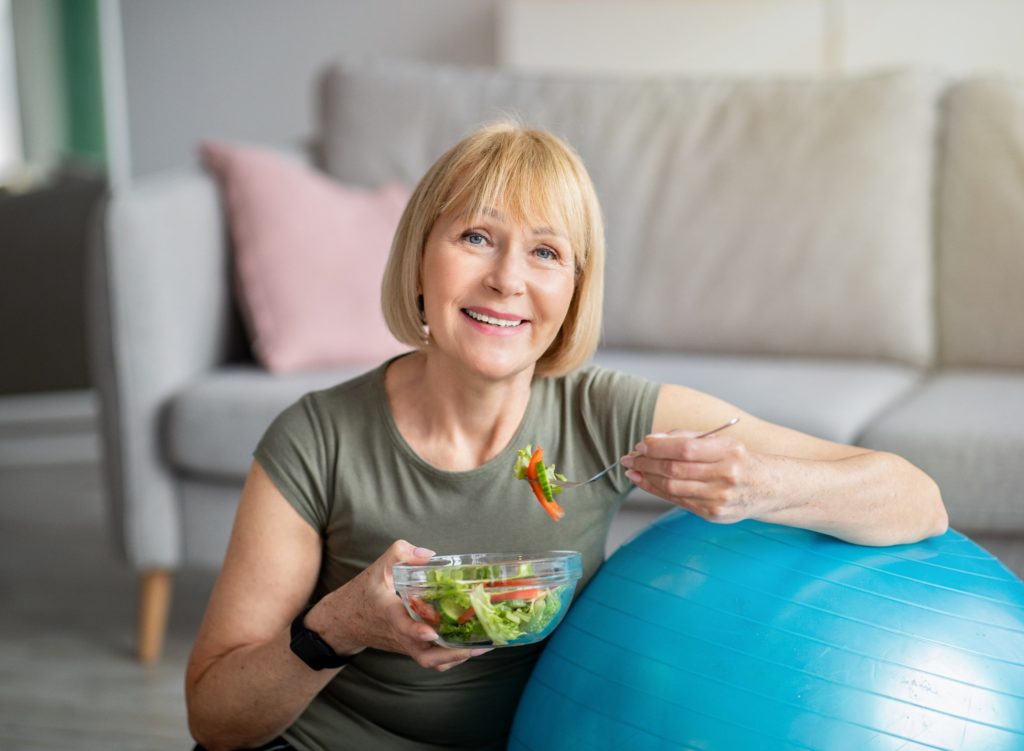 There is no denying the prevalence of tooth loss – the American College of Prosthodontics shared that nearly 180 million US adults are missing at least one tooth. If you're a part of this statistic, then you know all too well that chewing can be a chore with gaps in your smile. Luckily, that's where dentures come in! If you're currently in the adjustment period, then keep reading to learn a few must-know tips for eating with dentures.
Tip #1: Stick to Soft Foods at First
Of course, a small adjustment period in the months following the arrival of your dentures is to be expected. During this time, it's best for patients to stick to mostly soft foods, like yogurt, scrambled eggs, oatmeal, applesauce, and pancakes. This will also allow you to eat a nutrient-dense diet without resulting in any unnecessary irritation to your gums.
Tip #2: Check the Food's Temperature
Few things are worse than burning your tongue or the roof of your mouth on hot food. Since dentures can make it more difficult to assess the temperature of what's on your plate, it's best to always check first. You can do so by lifting it to your lips beforehand.
Tip #3: Chew on Both Sides of Your Mouth
It's natural for patients to favor one side of their mouth over the other. Unfortunately, doing so regularly can cause your dentures to lift out of position. To keep it stable and prevent unwanted movement, chew mindfully and distribute the food to both sides of your mouth.
Tip #4: Keep Water Close By
Sipping on water throughout your meals is beneficial for several reasons. To start, doing so will help keep your dentures free of food particles, bacteria, and debris. Additionally, liquids help you chew and swallow, aiding the digestion process.
Tip #5: Avoid Sticky Foods
Peanut butter, caramel, raisins, and marshmallows are just a few items that are quite sticky. Not only can they leave residue on your dentures, but they can also tug on them, knocking them out of place in the process. Therefore, it's better to just avoid them altogether.
Tip #6: Cut Your Food Into Small Pieces
When you're ready to incorporate more solid foods into your diet, it's important to continue to be mindful. Whether you're eating a refreshing salad or a juicy hamburger, make sure to cut your meals into tiny pieces. This will help you avoid excessive chewing, which can irritate your gums.
Dentures can help improve your quality of life exponentially, enhancing your smile and perfecting your speech simultaneously. So, a slight adjustment to your diet is a small price to pay. Plus, by keeping the above tips in mind, you can enjoy a nutritious and delicious diet in the meantime!
About the Practice
Our team at Pinnacle Dental is proud to provide patients who are struggling with tooth loss with comfortable and lifelike dentures. Furthermore, we will show you how to care for them properly and provide tips for day-to-day life with them. That way, the entire experience is as positive and stress-free as possible. If you have a question about eating with dentures or you'd like to schedule an appointment, don't hesitate to visit our website or call (781) 843-7905.