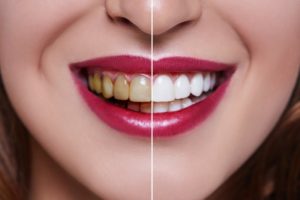 Professional teeth whitening treatments make it easier, faster, and more affordable than ever to get a brighter smile! However, even these powerful and reliable treatments can't address all types of tooth discoloration. Thankfully, if teeth whitening isn't a viable option for your situation, there are still plenty of other ways to achieve the dazzling set of pearly whites you deserve! Read on as we go over when teeth whitening isn't effective and two of the most popular treatments you can choose instead!
When Teeth Whitening Isn't Effective
The most common cause of yellowish or discolored teeth are extrinsic stains. These stains occur in the top few layers of the enamel. Professional whitening treatments can seep deep into the enamel to reach these highly pigmented particles and lift stains. However, this method won't work for specific causes of tooth discoloration, including:
Injury or decay on the inside of the tooth: Tissue on the inside of your tooth that has been discolored because of trauma or decay is too deep and severe to be lightened with whitening products.
Weakened enamel/ enamel erosion: If the enamel is worn away, it will reveal the grayish layer of dentin underneath. Since it is naturally this color and quite sensitive, it cannot be bleached.
Genetics, illness, or certain medications: Overexposure to fluoride in childhood, taking antibiotics like tetracycline, and genetic makeup can cause tooth discoloration that cannot be treated with teeth whitening.
Thankfully, there are two common cosmetic treatments that can be used to address these issues.
Cosmetic Dental Bonding
The fastest and most cost-effective option is cosmetic dental bonding. This treatment utilizes a reliable composite resin that can be shaded to look just like healthy tooth enamel. Once applied directly onto your tooth/teeth, your dentist will sculpt the resin over the discolored areas and polish it into place. After as little as a single quick appointment, cosmetic dental bonding can practically erase any dental stains and leave you with a gleaming smile!
Porcelain Veneers
While porcelain veneers require more time and money than cosmetic bonding, they offer truly unmatched results. These ultra-thin shells of beautiful dental porcelain can be bonded to the front of one or more discolored teeth to completely transform their size, shape, and appearance. In fact, porcelain veneers last longer than the results of teeth whitening, and they're even stain-resistant!
If you have tooth discoloration or stains that can't be lifted with a professional teeth whitening treatment, there's no need to worry! Cosmetic bonding and porcelain veneers are both excellent options that can help you attain the brilliant smile that you've always wanted!
About the Practice
Our talented team at Pinnacle Dental is proud to help patients in Braintree and the surrounding communities achieve smiles that look and feel their best. We are pleased to offer both in-office and take-home whitening treatments that offer reliably beautiful results with little to no tooth sensitivity. However, if teeth whitening isn't right for you, we would be more than happy to help you discover which cosmetic dental service is right for you and your unique smile. If you have questions or would like to learn more, we can be contacted online or at (781) 843-7905.