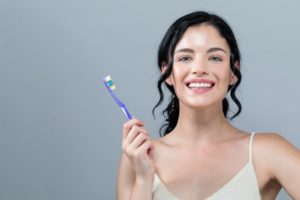 Even though toothbrushing is an essential part of maintaining a healthy smile, it's not something most people think about very often. Unfortunately, that means a lot of people are brushing their teeth incorrectly, which can lead to sensitive teeth, bleeding gums, tooth discoloration, and even more cavities! Thankfully, it only takes a few easy precautions and a little bit of practice to perfect the art of toothbrushing. Here's some key information to keep in mind and a few toothbrushing tips to help keep your smile healthy and sparkling.
Can You Brush Your Teeth Wrong?
Yes, there is a wrong way to brush your teeth. The American Dental Association recommends brushing your teeth for a full two minutes twice a day to remove all the plaque and bacteria from your teeth. However, recent surveys report that most Americans only brush for about 45 seconds and 30% of the population brushes less than twice a day. Additionally, if you brush your teeth really hard, you may begin to scratch away the protective shell of enamel on your teeth. What's more, if you've been using the same toothbrush for over three or four months, researchers report that it's leaving behind most of the plaque and introducing new bacteria into your mouth.
Picking the Perfect Toothbrush
If you've ever looked for toothbrushes at your local grocery store or online, you already know that toothbrushes come in all manner of different shapes, sizes, and colors. While this may seem overwhelming at first, it's actually a good thing! Many of them are specifically designed to address certain problems or obstacles, such as:
Sensitive teeth: Some toothbrushes have ultra-soft bristles that are easy on sensitive teeth and gums but still clean away plaque and bacteria effectivly.
Gum disease: These toothbrushes often have angled or tapered bristles that can reach between your teeth and gums, where cleaning is needed most for gum disease.
Braces: Orthodontic brushes have criss-cross bristles that make them better at cleaning small spaces between crooked teeth and underneath wires.
Jaw problems: If you have jaw issues that don't let you open your mouth very wide, these special toothbrushes with angled tips make it much easier to clean the back of your mouth.
Dentures, mouthguards, or retainers: Brushes specially designed to clean oral appliances typically have two sides, one to clean flat surfaces and another to clean hard-to-reach spaces.
Toothbrushing Techniques
No matter what type of toothbrush you get or whether it's manual or electric, it will only work if you use it! When you brush your teeth, try holding the toothbrush with your fingertips instead of in a closed fist to prevent overaggressive brushing. Use small circular motions to massage your teeth and gums for about 30 seconds in each quadrant of your mouth. In contrast to just scrubbing back and forth, this reaches between the teeth and under the gums to remove the particles hiding there.
If you have more questions about toothbrushing or toothbrushes, don't hesitate to talk to your dentist at your next checkup! They'll be more than happy to help you pick out the toothbrush that's best for you and demonstrate the best brushing techniques.
About the Practice
At Pinnacle Dental, we're committed to helping smiles of all ages in Braintree and the surrounding communities achieve and maintain excellent oral health. That's why we encourage our patients to come in every six months for a comprehensive checkup and thorough cleaning. We always take the time to teach our patients about their oral health and would be more than happy to help you make the most of your toothbrushing habits. To schedule your next appointment, we can be reached online or at (781) 843-7905.