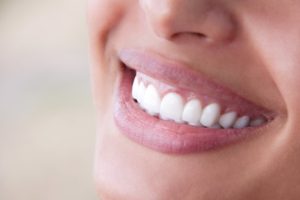 When you think of a healthy smile, you probably think of a beautiful set of gleaming pearly whites. However, it takes a lot more than sparkling teeth to keep your smile at its best! The wellbeing of your gums is just as important as the appearance of your teeth. In fact, those dazzling pearly whites could easily fall out if you have infected gum tissue! Read on as we break down why healthy gums are essential for a healthy smile.
Unhealthy Gums Are Bad for Teeth
Healthy teeth and healthy gums support each other. That's why the leading cause of tooth loss in the US is a bacterial infection in the gum tissues known as periodontal (gum) disease. When the gums aren't taken care of properly, bacteria can agitate and infect the tissues. At first, gum disease only causes inflamed gums that bleed easily. However, the gums help hold the teeth in place and shield the jawbone. If an infection in the gum tissue is left untreated, it can permanently damage the jawbone and destroy the connective tissues that anchor the teeth. In short, if you want to keep a complete set of pearly whites, it's essential that you take care of your gums!
Connecting Gum Health to Overall Wellbeing
Gum disease can cause a wide range of issues aside from tooth loss and jawbone damage as well. The most common warning signs of gum disease are chronic bad breath, bleeding and sensitive gums, and discharge between the teeth and gums. However, the negative impacts of gum disease don't stop at your mouth.
Researchers have linked gum disease to a higher risk of all manner of systemic health conditions, including dementia, diabetes, arthritis, and heart disease. In fact, studies suggest that gum disease can increase a person's risk of strokes, heart attacks and other cardiovascular events by 20%.
How Your Dentist Can Treat Infected Gums
Well over half of the American population has some form of gum disease. Thankfully, a majority of cases are still gingivitis, the earliest stage of gum disease. If your dentist discovers that you have gingivitis, they will likely recommend a better at-home oral hygiene routine, specialized mouthwashes, and perhaps more frequent dental cleanings. More severe cases of gingivitis can typically be brought under control by professional deep cleanings (called scaling and root planning), prescription mouthwashes, or antibiotic therapy.
When taking care of your smile, don't forget about your gums! Keeping your gum tissue healthy and free of infection is essential for preserving your pearly whites and staying healthy.
About the Practice
At Pinnacle Dental, we always strive to prevent oral health issues before they have a chance to even start. That's why we highly encourage all our patients in Braintree and the surrounding communities to come in for checkups and gum screenings twice a year. However, we know that life doesn't always go according to plan. That's why we offer targeted gum disease treatments like scaling and root planning and antibiotic therapy to help get your gum health back on track in no time! To learn more, we can be contacted via our website or at (781) 843-7905.