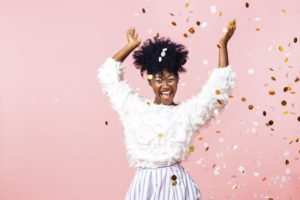 It's January, and you know what that means! It's that time of year where everyone is making goals to become their best selves. If you're looking for an achievable way to dramatically change your life for the better, why not start with your smile? Correcting oral health issues and dental problems can improve your health, confidence, and quality of life! If you wish you had straighter teeth, now is the best time to get the straighter smile you've always wanted with Invisalign! Here are sixgreat reasons to start the new year off with this modern orthodontic treatment.
1.) Invisalign Lets You Live Your Best Life
Invisalign clear aligners are designed to blend in seamlessly with your busy, active, or professional lifestyle. No need to rearrange your everyday life to accommodate your orthodontic treatment! Invisalign lets you keep living your best life while you straighten your teeth.
2.) No "Metal Mouth" Required
When worn, Invisalign aligners are practically invisible. This means you can smile confidently all throughout your treatment without worrying about a mouth full of metal wires and brackets distracting from your appearance. In fact, your friends and family probably won't notice you're wearing your aligners unless you tell them!
3.) Keep Eating Whatever You Like
Unlike traditional metal braces, there are no dietary restrictions with Invisalign. As long as you take your aligners out before your meal or snack then brush your teeth before popping them back in, you can keep enjoying all your favorite foods and drinks.
4.) Enjoy a Better Smile in No Time
In most cases, Invisalign treatments can help you achieve results much faster than traditional metal braces. While every patients' timeline will look slightly different, the average time to get a straighter smile with Invisalign is only 12 months!
5.) Invisalign Is a Comfortable Treatment
The metal wires and brackets of traditional braces are notorious for rasping painfully against the soft tissues of the mouth, causing soreness and irritation on the lips, cheeks, and tongue. On the other hand, Invisalign aligners are crafted from a single piece of smooth, biocompatible plastic. You can expect a much more comfortable treatment with Invisalign.
6.) Starting Invisalign Now Can Change Your Life
Correcting orthodontic issues is about more than just looks. Straighter teeth and properly aligned bites are essential for preventing a wide range of problems in the future, including damaged teeth, gum disease, TMJ disorder, and even jawbone damage. Fixing your smile with Invisalign now can give you a happy, healthy smile that you can enjoy for the rest of your life with the proper maintenance.
It's never been easier to get a better smile. Talk to your dentist today to see if Invisalign is right for you!
About the Practice
Pinnacle Dental has been serving the families of Braintree and the surrounding communities since 1988. We're proud to use a combination of state-of-the-art technology and a friendly, welcoming atmosphere to make every appointment as pleasant as possible. We've seen first-hand how a better smile can change a patient's life, which is why we offer a comprehensive menu of the latest dental services and treatments, including Invisalign. To learn more about Invisalign, we can be contacted online or at (781) 843-7905.