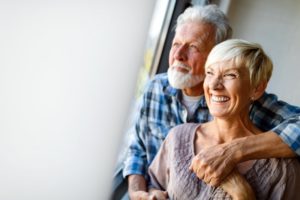 Missing one or more teeth can make it more difficult to speak clearly, eat comfortably, or smile confidently. Traditionally, dentures were the only way you could fill those gaps in your smile. However, now there's a more advanced, permanent, and comfortable option available: dental implants in Braintree. This restoration method is designed to be more comfortable, lifelike, and permanent than any other tooth replacement option. Read on as your Braintree dentist explains what dental implants can offer you that dentures can't.
Better Jaw Health
Your teeth play an important role in the health of your jawbone by stimulating blood flow. As soon as one goes missing, the bone tissue it once supported starts to deteriorate. Dentures only sit on top of your gums, but dental implants are designed to replace the tooth both above and below the gumline. Small, titanium posts are used to recreate the tooth's roots, which restores natural blood flow and keeps your jaw healthy.
Incredibly Realistic Results
This unique process of replacing a tooth allows the dental implant to look, feel, and act just like the rest of your natural teeth. In fact, many people have a very difficult time distinguishing the two. Most dental implants are made of porcelain, which is renowned for its ability to mimic the appearance of tooth enamel. Once the dental implant is shaded to match the color of your other teeth, it will blend into your smile seamlessly.
Rock-Solid Stability
Dental implants are held in place thanks to a process called osteointegration, where the titanium posts fuse directly into the jawbone. This provides a solid foundation and anchors your new tooth in place. Unlike dentures that can sometimes pop or slip out of place, you'll never have to worry about your dental implant shifting as you eat, talk, and smile.
Dietary Freedom
Dentures can make it difficult to enjoy some of your favorite foods like steak, crusty bread, and apples. With the reliable stability of dental implants, there are no restrictions to what you can eat. Dentists estimate that dental implants can restore 70% or more of your biting force, so you can munch away without a second thought.
A Permanent Solution
While dentures are durable, they will inevitably wear down over time. Unfortunately, the cost of repairing or replacing them can add up over the years. On the other hand, dental implants are an investment in your smile that you can expect to last for decades. They require no special cleaning methods and can be kept healthy and clean with routine brushing and flossing. With the proper care, your dental implants should easily last you a lifetime!
Everyone wants a complete, beautiful smile. If you're missing one, several, or all your teeth, replacing them with dental implants is the next best thing. Your Braintree dentist can help you discover if this advanced tooth restoration process is right for you and your smile.
About the Practice
Our highly trained team of dentists at Pinnacle Dental has been rebuilding healthy smiles in Braintree, MA since 1988. We are dedicated to meeting all your dental care needs under one roof, whether you need a quick cleaning or a more complicated restoration. Unlike other dental practices, our dentists have the advanced training required to perform every step of the dental implant process, no referral required! If you have questions about replacing your missing teeth, fell free to contact us via our website or at (781) 843-7905.