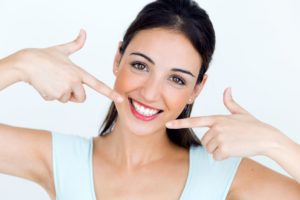 Did you know that more than 50% of young Americans have untagged a photo of themselves on social media because they're unhappy with the way their smile looks? That's right, more than half of the population has problems with the appearance of their grin. Luckily, there's a cure for that. Your cosmetic dentist in Braintree offers multiple treatments to treat your smile woes.
Crooked Teeth
Misaligned teeth present more than just aesthetic problems. They can be harder to clean, thus increasing your risk of cavities and gum disease. Mildly crooked teeth are usually treated with porcelain veneers, which is why they're often called "instant orthodontics!"
Cracked or Chipped Teeth
If your tooth has a chip or crack, that fracture can actually become larger over time and cause more damage. Eventually it could reach the center of the tooth and result in extreme pain. Fillings, dental bonding, veneers, and crowns can be used to restore missing enamel.
Stained Teeth
Discoloration is one of the most common smile flaws, which is why teeth whitening is so incredibly popular. Most dentists offer both in-office and take-home whitening treatments so that you can brighten your smile in whatever way suits your schedule.
Gaps Between Teeth
Spaces between your teeth can cause you to hide your smile away from the world. Veneers can be placed over the affected teeth, or dental bonding can be used to fill in the gaps. Now you should be more than proud enough to show off your grin to the world!
Missing Teeth
It's hard to find a reason to smile when you're missing one or more teeth. Having a gap in your grin can also cause jawbone deterioration, sagging facial muscles, and shifting remaining teeth. Dental implants are truly the best option when it comes to replacing missing pearly whites. They provide unparalleled stability and, with proper maintenance, can last for decades to come.
Misshaped Teeth
Maybe you have a tooth that's too short, too long, or just too different from the rest of your teeth. Misshaped teeth can easily be remedied with dental crowns, veneers, or cosmetic bonding.
Gummy Smile
Sometimes it's not your teeth that are the issue in your smile; it's your gums. Your teeth may appear too short because your gum tissue has grown further down onto the teeth than it should. Your dentist can use soft tissue laser treatment to remove excess gum tissue quickly and painlessly.
No matter what aesthetic problem you may have with your smile, your cosmetic dentist in Braintree has a treatment that can solve it. Schedule an appointment with them today to get started on your journey to a more beautiful smile!
About the Author
Dr. Clark Ingoldsby has been in private practice for more than three decades. He graduated from Temple University School of Dental Medicine, where he later served as a Clinical Instructor in the Department of Oral Medicine. His true passion is cosmetic dentistry, where he feels he can truly make a difference in his patient's lives. If you have a problem with your smile that you feel needs correcting, contact Dr. Ingoldby's practice, Pinnacle Dental, at (781) 843-7905.