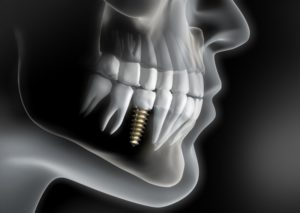 Are you missing one or more teeth? If so, you've probably noticed that it makes life a little harder. You might not be able to enjoy your favorite foods anymore. You might be self-conscious about the gaps in your grin. You might avoid saying certain words because missing teeth may negatively affect your pronunciation. You may have heard about dental implants to bridge the gaps in your smile. Just how natural do they look and feel? Let's take a closer look.
What Are Dental Implants?
Dental implants are metal posts, usually comprised of titanium, that are surgically inserted directly into the jawbone. These screw-shaped devices essentially function as roots for teeth that have been lost. Over a period of a few months, your jawbone will actually grow around the implant in a process called osseointegration. After this process is complete, your dentist in Braintree will top the implant with an abutment, or a metal connector, and a restoration like a crown, bridge, or denture. The type of restoration used depends on how many teeth you are missing.
Do Dental Implants Feel Natural?
Your jawbone will grow around the implant posts. Because of this, after the osseointegration process is complete, the implant will basically become a part of your own anatomy. Many patients who have received dental implants have gone on to say that they feel more natural than other tooth replacement options like bridges or dentures alone. In fact, many of them say that they forgot they even got implants because they feel so natural!
Do Dental Implants Look Natural?
Implants are designed to perfectly blend in with the rest of your teeth. Not only do they feel like a normal part of your smile after a few months of integration, but they are designed to seamlessly be a part of your grin. This is because they are restored with a crown, bridge, or denture. All of these restorations are meticulously crafted to fit the dimensions of your smile. Crowns and bridges are custom shaded to match the color of your remaining teeth, and dentures are built exactly to your liking. No matter which restoration you decide to go with, your dentist will make sure it looks just like your natural teeth.
Dental implants are a great way to restore look, form, and function back to your smile. If you're missing one or more teeth, ask your dentist if implants are right for you.
About the Author
Dr. Neil Epstein earned his doctorate in dentistry from the Medical College of Virginia and then completed a periodontal residency at Boston University's School of Dental Medicine. He specializes in periodontal treatment and dental implants, and is a member of the International Team for Implantology. He thoroughly enjoys helping patients restore their smiles with dental implants. To schedule a consultation to see if dental implants are right for you, contact Dr. Epstein's office via his website or by calling (781) 843-7905.